The ultimate eCommerce SEO guide
Being an eCommerce entrepreneur in this time of cut throat online competition, if you are not able to generate enough traffic & sales, you will be out of business sooner than later
The biggest question for every eCommerce website owner is – how to generate more sales?
So what are the ways that really works to generate sales, is it Google adwords? Is it Facebook ads? Or any other paid advertisements and affiliate networks?
All these channels work to generate traffic & sales but none of them are free
This is a big pain for all the small online businesses out there since money is always tight to spend on marketing activities when you are just starting
So what's the best way? Search engine optimization (SEO) is the best way to generate consistent sales on any eCommerce website in the market
One prominent survey has found SEO to account for more than 30% eCommerce website traffic all around the world; i think this is enough to understand the importance of SEO for ecommerce websites.
If you are not aware about what seo is, It is a process to improve organic search rank of your website using a set of techniques that we are going to discuss in this guide
Whether you are getting started with a new website or working to improve SEO for your existing website, this guide will provide useful tactics that really works, based on our years of experience of doing SEO for number of eCommerce websites, No matter Big or small
So Let's get started..
1) First thing first, Architecture Of your website should be user Friendly
Do i need to mention this? If your potential customers cannot find easily what they are looking for on your website, how do you think they will buy? They will simply switch to any of your competitors
Even Google spiders won't crawl important sections of your website if they are not easy to find on your website navigation. Make sense?
Let's do a quick test here, ask 8 to 10 of your friends to navigate your website as end users and get their feedback whether they found it easy to navigate or not
If not, contact your ecommerce website design company today to discuss the best ways to solve the layout and navigation issues on your website to make it Google and user friendly
The structure of your website will not only affect SEO, It will also affect user experience so you want to make it easy to find stuff both for actual users and search engine crawlers
2) Keyword Research & Competitors Research:
This is the most crucial part before you start working on SEO because targeting the wrong keywords will not lead you anywhere in this age of internet where everyone is busy in searching something on Google using their Smartphone, tablet of laptops
You need to find highly relevant and high search volume keywords for your home page and product landing pages
You really need to think as end user here to identify the best keywords that your customers might be using to find your products or services on search engines
Use Google adwords keyword planner tool to find out keywords that are profitable for your business
For example, If you are selling herbal Tea, The keyword planner tool will show the result like this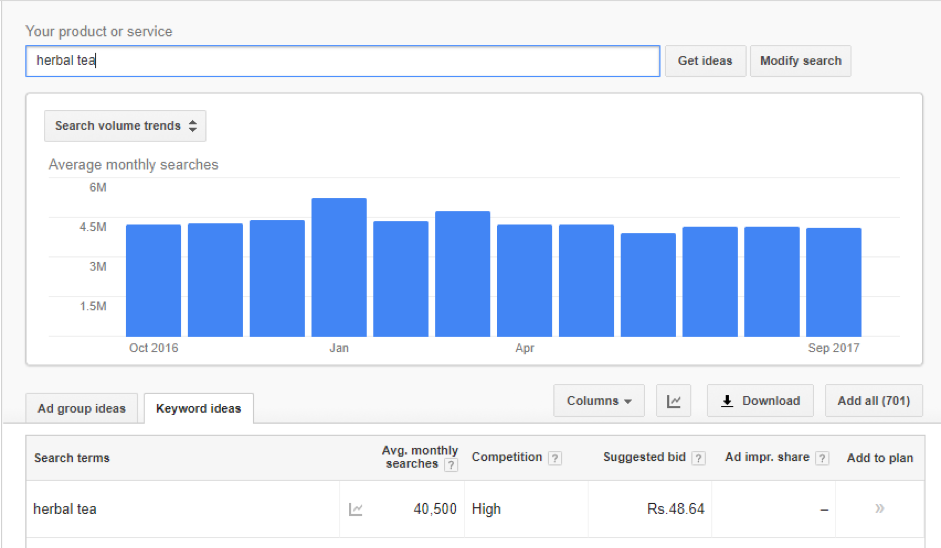 It will show average monthly search volume of the keyword with other relevant search keywords and its competition. The lower the competition, higher the chances are to rank for that keyword
When you search for Herbal tea of Google, at the bottom of the page it will show you other relevant search terms that you should consider too, it will look like this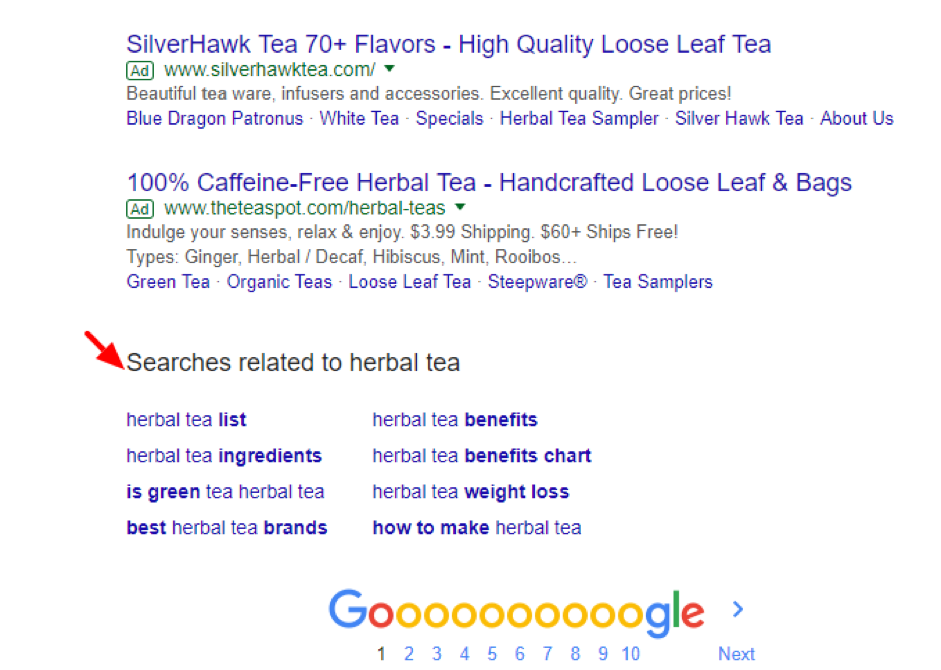 You can also use Amazon for specific product keywords suggestions, so if you search for Herbal Tea on Amazon, it will show keyword suggestions like this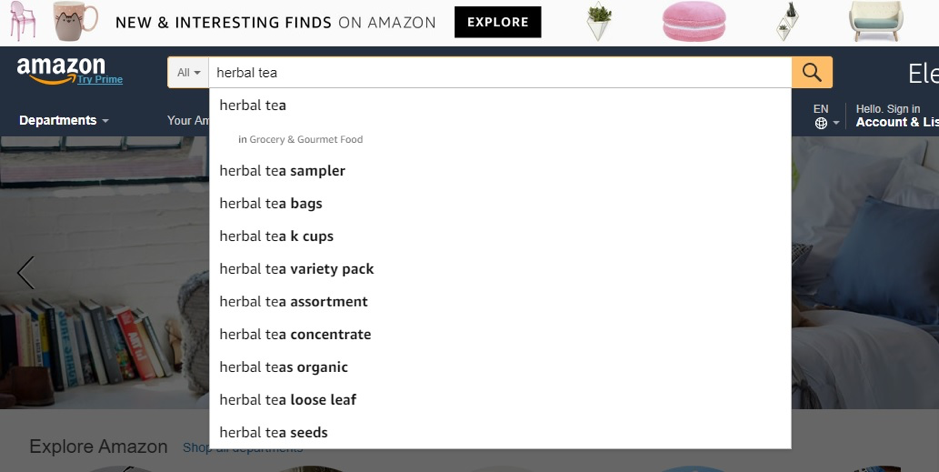 Make sure to use long tail keywords as it will have low competition and will result in high conversion rate
To find out what keywords your competitors are using, Use keyword research tools like SEMrush. Put in your competitors' website url and it will show you entire list of organic keywords they are ranking for
Spyfu is another interesting tool that you can use to find out best performing keywords and ads working well for any of your competitors
3) On Page optimization
As you have figured out structure of your website and list of keywords to target for your SEO activities, let's discuss how to integrate those keywords on your website landing pages
You need to make sure that the target keyword for any particular page is included in:
– Page Title
– Page URL
– Page headers and sub headers
– Product description
– Image alt tag
– Meta Title
– Meta Description
a) While building the urls of your pages, Keep in mind that it should be user friendly and include your keywords
For Example if you are selling Cocoa powder, your url should be something like this
https://www. Yourwebsitedomain.com/product-Category-Name/cacao-powder
b) Write long and in-depth description for all your products. It will help your customers to make better decisions and Google really loves long product descriptions
c) All your product images should have alt tag assigned with your keywords included. Since search engine crawlers cannot see images, they rely on alternative text attributes to determine relevance of the images to a search query
Alternative text also helps to make an image more likely to appear in a Google image search and is used by screen readers to provide context for visually impaired users
d) If you are not aware what meta title and description is, The screen shot below shows what is meta title and description within the search result
Internal Linking:
It is linking your web pages to the other relevant pages within your website using your own anchor text
It will help to make Google understand your targeted keywords; however don't add lots of links using the same anchor text
4) Blogging:
Having a blog on your ecommerce website is the best way to enrich your customers with useful product information on regular basis
Any professional seo agency will insist you to start blogging for better SEO results on long run
You can optimize each of your blog post with keywords you are not targeting on your main product pages.
Read our post to understand why it is important to have a blog on your ecommerce website
In order to get the maximum return out of your blogging efforts, your blog posts should be detailed with a goal to provide your users with high value information in each blog that you post on your website
"Don't focus on having a great blog. Focus on producing a blog that's great for your readers." – Brian Clark
Note this, Blogging is a long term strategy and you need to be consistent in your blogging activity to get great results
5) Link building
With quality content, earning quality in bounce links to your website is the second most important part for the success of any seo efforts
I would say, Epic content and quality link building are the 2 most important pillars of any great SEO strategy
Google will never penalise you if a lot of high quality websites are linking back to your website
You can use Google search console to see what websites are linking to your pages, See the screen shot below
Here are some of the best ways for link building:
– Writing good guest posts
– Give testimonials and have it link back to your website
– Create your profile in trust worthy directories
– Promote your blog posts as much as possible
6) Customer reviews
More customer reviews on your website means more unique content and that's good for seo because Google loves to see fresh content on your website
It will also help to increase conversion rate so you should have a strategy to receive maximum positive customer reviews on your website
There are some cool plugins available in the market to integrate customer reviews on your website
After few days of their purchase, you should send an email to each of your customers to ask them to write an awesome review about your product or services
7) Mobile responsive website design
A report published by Reuters has mentioned that 75% of Internet use in 2017 will be via mobile devices. So it is important to have a website design that responds well in the mobile/tablets along with desktops
Google is also considering responsive design as a ranking factor so having a responsive design for your ecommerce website is not an option anymore, It's a must have thing
You can use this free Google tool to check mobile usability score of your website – https://testmysite.thinkwithgoogle.com
Google search console can also help to identify mobile usability issues on your website
If you find any issues – contact your magento experts right away to get them solved
8) Social media integration
Having sound social signals is very crucial for positive SEO on your website so you should have social media sharing options on your product pages and blog posts
The more your products and blog posts are shared on various social media platforms, the more seo benefit you will get
9) Website Loading speed:
If your eCommerce website is not loading within 3-4 seconds max, you got to do some work on it
Slow loading website is bad for your user experience and search engine rankings as Google is considering loading speed of the website as a ranking factor
You can use Pingdom website speed test tool to check loading speed of your website and to identify areas of improvement for fast loading speed of your web pages or contact us now to get free speed audit report for your website
Here are some best tips to speed up your Magento ecommerce website
10) Integrate SSL with your website
If you don't know what SSL is, It is secure socket layer certificate which is security measure for a website
When you have SSL certificate configured on your website, It allows secure connection from your server to the web browser with security padlock activated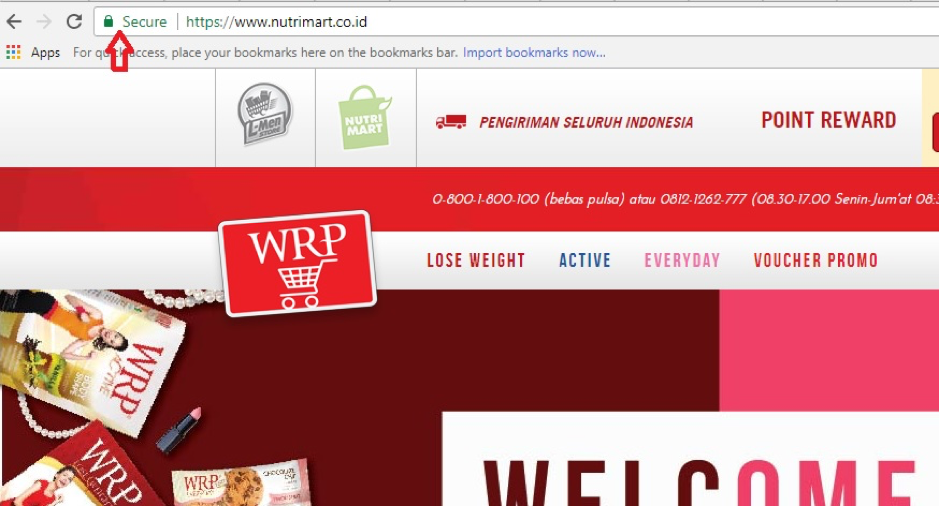 If you don't have SSL configured on your eCommerce website, on your checkout page where you gather important information like credit card details etc, chrome browser will automatically show to your customers that your website is not secure

If you have SSL configured, your website pages will open with HTTPS and if not, your web pages will open with HTTP
Google has officially announced that it is considering SSL certificate a ranking factor for eCommerce websites where you are collecting important customer information on your checkout pages
So having SSL certificate configured on your website is basic requirements for security of your website and for better SEO
11) Create 404 redirects
If any of your old products were removed from website, you should redirect that removed page url to any other similar product page as well as you must have an attractive 404 error page on your website
The reason for creating 404 redirect is, If your removed product page was ranking well for any specific keyword, the traffic from that page will be passed to the new page that you create
You can log in to your search console to check if you have any 404 errors
12) Create sitemap
Sitemap is a blueprint of all the pages on your website and it helps Google crawlers to quickly and easily find all the pages on your website
Just so you are aware, Google does not only rank a website but it ranks all the pages on your website so it is important for Google crawlers to know how many pages are there on your website and sitemap makes this job easy
Create a sitemap, put it on your server and verify your sitemap using your search console
If you don't know how to do it, call your Woocommerce experts to create a sitemap for your website
13) Create robot.txt file
Robot.txt files is used to let search engine spiders know which pages on your website to crawl and which pages not
If you have a duplicate page on your website and you don't want to rank that page on search results, you can block that page using robot.txt
As you add new products and categories to your eCommerce website, keep updating your robot.txt file for search engine spiders to know which pages to crawl and which not
14) W3c validation errors
It is important for SEO of your website that you identify and solve all the W3C validation errors on your website
Use valid markup on your website that contains no errors. Syntax errors can make your page difficult for search engines to index
Put your website url on markup validation tool and it will show you all the errors your have on your website that needs to be solved

15) Remove broken links:
Broken links are those links which are no longer work; if you click on broken links they will lead you to 404 errors
Some reasons why links don't work can be – URL structure of the website is changed without implementing proper 404 redirects or the website is no longer available
Cleaning up broken links from your website is good for both user experience and SEO
16) Implement Canonical tag
Canonical tag is used to solve duplicate content issue on your website
If your website has same products with different age urls for different size, colours etc, Google will consider them as copy content pages if you have not implemented canonical tag to the original product page
Conclusion:
If you implement all these practical SEO tactics on your eCommerce website, we can guarantee you that your organic traffic and sales will start increasing
If you have any more questions or feedback, Please write in the comments section below