Very often, when we hear the term "online store", images of ecommerce platforms selling apparel, footwear, jewelry, stationery, and groceries are what spring to mind. While there's no denying that B2C companies constitute a major share of ecommerce stores, B2B portals are also slowly emerging to dominate the online retail space.
Today more and more B2B customers are shopping online. In fact, a study by Forrester states that over 74% of B2B customers conduct their pre-purchase research online; while over 90% start their business purchases with an online search. This proves the ever-growing scope of B2B online portals
With that said, the needs and requirements of customers are vastly different for B2C and B2B businesses. Consequently, B2B business owners have to alter the way they design and present their online stores to customers. The regular shopping cart model doesn't work for B2B.
12 B2B eCommerce Website Features
B2B eCommerce Website Features
Here, in this article, you can find a list of features that are essential to make your B2B e-commerce store a raging success online.
1. Personalized Pricing
Unlike B2C portals that have uniform pricing for all customers, B2B businesses offer different pricing based on the customer. For instance, on sites like Alibaba.com, wholesale purchases get you higher discounts when compared to retail purchases.
Additionally, B2B businesses offer bundle pricing for particular combinations of products, quantity discounts, etc.
Your site must be designed in such a way that it displays the right pricing for various customers. Once a particular customer logs in, he must be able to access the price for him, based on ordering quantity and other discounts.
2. Advanced Checkout
We agree that the checkout for B2B orders is more complicated than for B2C. This means the shopping cart model of checkout needs to be the most appropriate. Your eCommerce website design company must be able to design your site in such a way that it facilitates easier checkout and reduces shopping cart abandonment.
The checkout process must not only be streamlined but also help to accommodate other factors like:
Customers must be able to transfer their shipping charges to their corporate delivery partner accounts (like FedEx, USP, etc.)
Customers must be able to retrieve payment information from previous orders
Ability to pay for the orders via different payment methods like a line of credit, purchase requisition, trade credit, etc.
Ability to repeat a previously placed order, without having to search for individual products all over again.
Check out the B2B website Grainger which offers a guest checkout option, allowing reducing the risk of abandonment.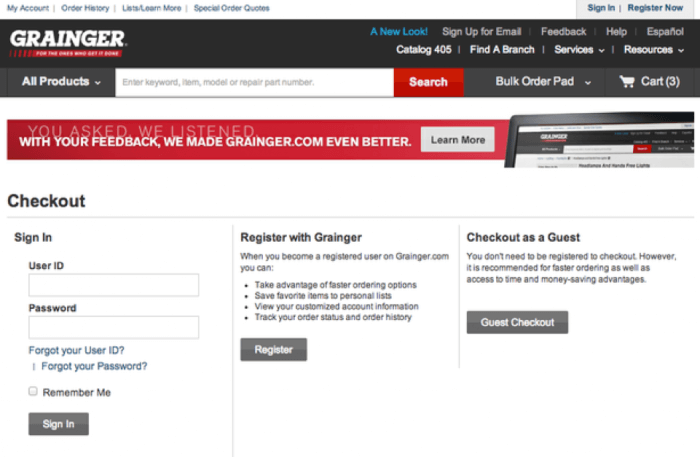 3. Bulk Ordering
Very often, B2B customers place very large orders. In such instances, searching for all the products from your online catalog is tedious and time-consuming. To simplify the task, you can provide your consumers with a bulk ordering form.
When designing a bulk order form, ensure that customers can add products with just the Part Number or SKU. Also, they should be able to specify the quantity they want for each item. Once the bulk ordering form is completed, it must take your customer directly to the checkout page.
4. Minimum Order Quantity
This is another feature that distinguishes between B2C ecommerce stores and B2B portals. Very often, B2B businesses sell products only in wholesale quantities. Customers must order a minimum specified quantity for the order to be completed.
If you have any such restrictions, make sure to discuss them with your Magento ecommerce development agency, to find out if it's possible in the design.
Here are a few features you may have to include in your ecommerce store, depending on the nature of your business:
Minimum order amount for order eligibility
The minimum order quantity for a particular product
Product multiples for items that are sold as a group in cases, packs, etc.
5. Bulk Discounts for Wholesale Purchases
B2B customers very often make bulk purchases. So, instead of listing frequently sold products as individual items, you can also list them as packs, boxes, cartons, or even pallets. This makes it easy for the customer as well as yourself. If a customer is looking for nails, they would be able to add them easily to the shopping cart as a box instead of as 100 individual ones.
Additionally, B2B businesses offer different tiers of discounts to clients based on the quantity of the products ordered. For instance, offering the same discount to a customer who purchases 10 air filters as well as one who purchases 1000 air filters doesn't make sense. Your ecommerce store must be able to accommodate different discounts based on the quantity ordered.
6. Restricted Access
Some B2B businesses allow only pre-registered clients or dealers to order products from their online store. For instance, if your business sells only via a network of dealers, then your site should be designed in such a way that only authorized dealers can gain access to it.
When choosing an ecommerce platform, ensure that it has the ability to password protect your entire site and restrict access to customers.
Alternatively, you can also restrict access to specific portions of the site to unregistered customers. This means, that the home page and product list are available to everyone, but only authorized dealers can purchase at your online store.
7. Enhanced Mobile Experience
Today, more and more B2B customers are searching for business products on their mobiles. As mentioned above, nearly 94% agree that they begin the search for business services or products on their Smartphones. This means that mobile-friendly sites are no longer an additional feature. They are mandatory to provide your clients with the best user experience.
While designing a mobile responsive ecommerce store, you need to look for advanced features like:
Auto-complete – This lets your customers fill in forms using the information already stored on their devices. This way they don't have to key in repetitive keystrokes for common information like name, address, email address, phone numbers, etc.
Clear Call to Action button – With this customers can reach your customer support team with just a single click.
Make sure that your site has fast loading times, and offers an optimized experience across all screens. You can enhance the user experience by placing call-to-action buttons at the top so that customers can avoid endless scrolling, and reduce page load times by keeping the design minimal and clutter-free.
Also, the website should reflect a unique positioning. Take the example of Sprint.com which offers a refreshing design, aesthetics, and copy, which makes it stand out from others.
8. Intuitive and User-friendly Searches
One of the best ways to increase the conversion rate on a website is to improve the search functionality of your eCommerce portal. Customers must be able to locate items they're searching for without having to navigate your entire product list.
This means you need more than a simple search bar on your site. Here are a few enhanced search functionalities to ask your ecommerce web developers to provide on your site.
Filtering – Customers must be able to locate a product or refine default search results by varying attributes like product size, color, availability, etc.
Long-Tail Searches – Your ecommerce portal must be able to handle and interpret long-tailed semantic searches. Studies show that the abandonment rate reduces significantly from (40% to 2%) with a semantic approach to search.
Auto-complete – While this may seem like a simple feature, it indeed has huge impacts. It not only helps consumers save time but even makes them purchase other products that they previously hadn't thought of purchasing.
Consumers who have the auto-complete suggestion are 6X more likely to complete the purchase, compared with sites that don't have this option.
Additionally, visual auto-complete further increases conversion rates, by providing consumers with images of products they're searching for, right in the search bar. You will find this feature on top B2B sites like Quill.com.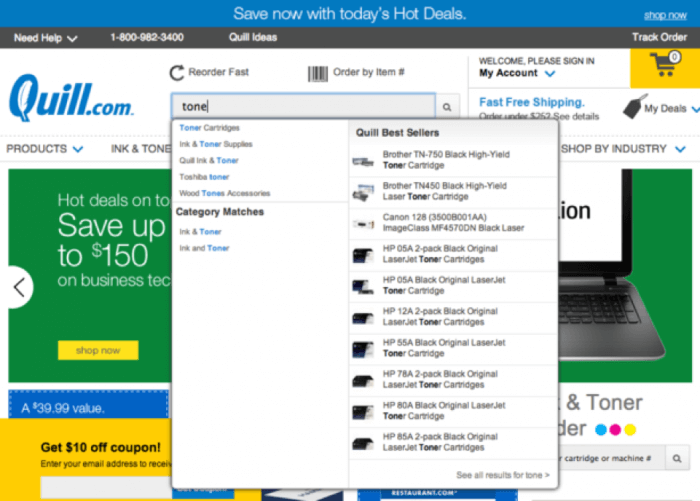 A Quick Intro to Semantic Search
It's a feature that connects the terminology used by the customer with the actual product catalog. When a site has semantic search enabled, it helps customers search the platform using long-tailed terms.
For instance, this provides a consumer with the ability to search for "14" screws in black color", instead of looking at all screws and using filters to locate their preferred product.
MSC Industrial Supply Co. also offers semantic search technology to its users.
ThomasNet is another B2B website that offers semantic search.

9. Flexible Payments
In the B2C world, getting paid immediately before processing an order is of vital importance. On the other hand, B2B businesses don't work that way. There is a steady relationship between the company and the client, and very often, businesses extend a line of credit to their clients. This brings in the need for flexible payment options.
Flexible payments add to the overall user experience. While having different modes of payment are a great convenience for B2C online stores, they are highly crucial for B2B stores. While offering multiple payment methods, ensure that you provide options for offline modes along with regular online methods like credit cards, RTGS, NEFT, IMPS, etc.
An example of an offline payment method is to complete the order and then allow the client to pay for it using the order number, within 30 days of completing the transaction.
10. On-hand Customer Support
To ensure that you boost conversion rates, you need to provide more than a "Contact Us" page on your ecommerce portal. You can add a "Request a free quote" form or even a live-chat facility to provide your clients with real-time customer support.
A study states that live chat helps to increase leads by 4x to 8x times. Check here the benefits of live chat customer support for eCommerce websites.
Make sure to get your WooCommerce experts to enhance the customer support WooCommerce features on your online store during the design process.
11. Real-Time Inventory Updates
This is a must-required feature of all B2B ecommerce portals. Only with real-time inventory updates, you can provide your customers with the most accurate information.
If a consumer completes an order, only to find that you don't have the required products, they not only lose trust in your brand, but you also end up losing potential repeat sales and even the customer.
Real-time inventory updates have far-reaching implications beyond your online store. You get a clear picture of your overall inventory, and it helps to streamline your operations, especially if you run a just-in-time business model.
12. Advanced Customization
Very often B2B ecommerce stores fail because they are rigid and are designed based on a standard template. When it comes to the needs and requirements of a business, there's "no one size that fits all." Your online ecommerce store must be tailored to the specific needs of your business and not the other way around if you want to get the most from your ecommerce venture.
This starts with choosing the right ecommerce platform that meets your specific requirements. If you have decided to work on WordPress, the next step is to hire a WordPress expert, who can provide you with complete customization, instead of designing based on templates.
Take the example of Medline, which offers a personalized view of the website to its customers as they can narrow down the categories they are interested in viewing.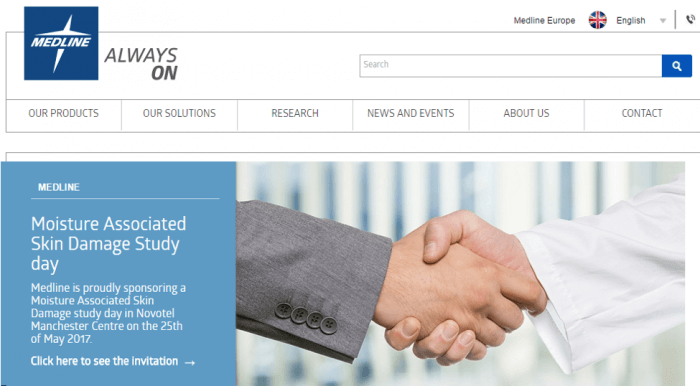 Final Thoughts
Launching a successful B2B ecommerce store is not possible overnight. You need to choose the right platform and provide your clients with advanced features and added functionalities to ensure that it works the way, you intended it to.
While this B2B eCommerce features list is essential to make your business stand out from your competitors, a few of them may not apply to your line of business. So, make sure you choose a reputed B2B ecommerce website development company, that understands your business and provides you with the best solution.