How To Optimize Your Website For Voice Search
The way of finding information on the web has changed across the globe. People are using voice search on their mobiles, tablets, or voice assistants to find the information they want online.
But, why the use of voice search is growing rapidly?
In this busy world everyone wants to have technology process faster and convenient. You might have noticed how effectively voice search resolves your web search query in comparison to text search.
What Is Voice Search and How It was introduced
Back in 2011, apple had launched the Siri Intelligent personal assistant which is available in the different languages, which takes orders from users via voice command wherein Voice search was introduced to the world.
Voice search is the newest frontier and nowadays becoming more and more commonplace.
Voice search has capabilities to evolve the industry and we really love it. Being a professional SEO services agency, we believe that voice search is the vital part of your SEO strategy and you must include it sooner than later.
In recent years people have gradually adopted voice search in the USA.
As per statistics, 50% of all searches will be via voice search by 2020 which shows that voice search is here to stay for long run.
We anticipate that this will continue to increase, therefore we advise our valued customers to optimize their websites for voice search along with doing other SEO activities to be on top of the search results for their important business keywords
Here are some proven ways to optimize your website for voice search
1. Website Speed Optimization
We have optimized hundreds of website pages for Voice search in this year
Study says that average voice search result page loads in 4.6 seconds (52% faster than the average page). This means the Page Speed plays a significant role in voice search SEO.
See the screenshots above, the page loads in less than 4.6 seconds. The keyword "herbal tea" for that website is ranking well on Google.ca using voice search
The keyword has search volume of 1600 per month which is not bad at all
We suggest you to review your web pages to resolve any loading speed issues. Gtmetrix is a great tool which can help you to improve your website speed effectively
2. Voice Search Queries Are Conversational And Longer
Optimizing your website for voice search is a bit different than traditional SEO
Based on reports, 22% of people use voice search for finding local results
Also, Google has disclosed that "near me" searches have grown significantly over the years.
Typically when you use computer to find any information on the web, you prefer to use short phrases to save physical efforts
E.g. "Best restaurant in NJ"
On the flip side you will probably use long tail queries when you have an option to find information via voice search
E.g. "Which restaurant serves lunch near me?"
Don't get confused between voice search queries and long tail phrases. Voice searches are most likely to have longer with question phrases.
Keyword research tools might not be able to help you to find phrases that people uses on mobile assistants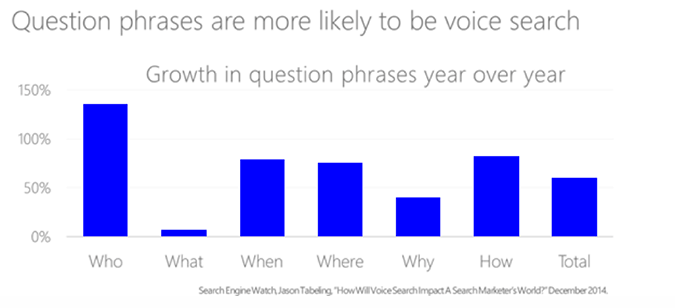 Credit: Search engine watch
So you need to identify what your potential customers are searching online using voice search/voice assistance
In order to find relevant text-based queries, I recommend Answer the Public tool
You just need to enter a keyword, it will show you bunch of questions that you can utilize on your web pages to optimize for voice search
If you want to use other tools to find similar voice search phrases that your customers might be using, I would suggest Question Samurai and StoryBase
With the help of these tools you can get better understanding of the shopper's mindset and implement them in your voice SEO strategy
3. Answer length does matter a lot in voice search SEO
Google prefers short and to the point answer to voice search queries. A case study from backlinko says average voice search result was about 29 characters.
Furthermore, keeping answer short and precise helps you to get a place in featured snippets which can help you increase CTR and boost keyword rankings
4. HTTPS and SSL Integration
As per statistics, 70.4% of Google home result pages are secured with HTPPS. It clearly shows that HTTPS websites dominate the Google's voice search result
Moz is the biggest name in SEO industry when it comes to selecting the right SEO tool for your website. It tracks thousands of keywords a day
You will be surprised to know that the keywords they track for websites which are in top 10, 79.8% them are secured with HTTPS
As matter of fact, HTTPS is the nitty-gritty of SEO strategy
There are lots of other advantages of installing SSL. If you're running an eCommerce website – discuss with your Woocommerce development company to confirm if you really need an SSL
Moreover, websites with SSL configuration would get an extra boost in voice search SEO
5. Use schema markup data
Do you write thorough and useful content for your target audience?
Well, search engine sees lots of other factors to determine page relevancy and rank your web pages in the SERP and schema markup data is one of them
Schema markup is also known as structure data which don't just help to improve your keyword ranks but can give you an extra edge over your competitors
Any web designing and development company who has the team of SEO professionals can help you to optimize web pages for structured data
This one is an underutilized strategy because it requires coding skill to implement on your web pages so SEO guys will not do this on their own
It's specifically designed for search engines so that it won't appear on the website to your website visitors
Want to see an example?
The following Meta data will help you to organize your contact information on search engines:
Also you can use schema markup data to create well-formatted visually appealing result on search engines.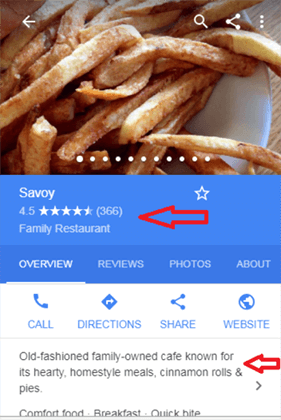 See this screenshot, you might be wondering how this microdata is relevant to voice search. Right?
When users search for any local businesses, they often look for business hours, contact information, direction and that kind of information
Therefore you should use microdata to classify this information on your web pages
6. Claim Your Google My Business Listing
As we know voice search gives more preference to hyper-local queries.
Listing your business on Google my business would make this job easy for your customers
It allows you to add information about your local business like business name, phone number, address, category of your business, operation hours, images, and more
Choosing the right category of business is more important during creating my business listing
You should select the categories that your business is associated with, not the products or services you're offering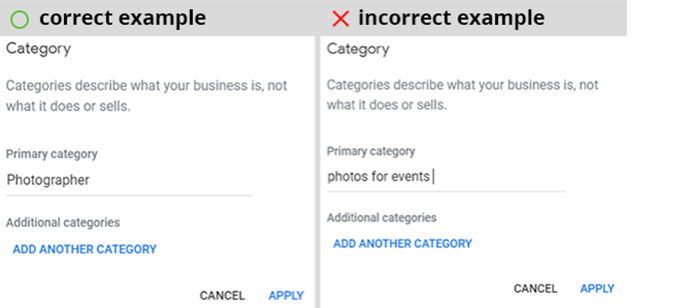 For example, If you're Photography Company – you can select photographer as your business category
That would be great if you add business pitch that allows about 400 words and upload high quality pictures to persuade visitors to click onto your website
7. Get Mobile friendly Site
Typically voice searches happen on mobile devices. So it's crucial that your site provides the best viewing experience on different size of mobile devices
In order to check whether your web pages are designed with Google's responsive guidelines or not, we suggest to use Google mobile friendly testing tool.
If everything is fine on your page, it will show you message "Page is mobile-friendly".
On the flip side, Google will recommend necessary steps to be taken on your web page to make it responsive. Contact your Magento development agency if you need to update your pages to make them 100% mobile responsive
8. Create Blog Posts Answering Your Consumers' Questions
There is no doubt FAQs pages are performing well in voice search
Though, we would not suggest you to stop your efforts to just creating FAQs
First, you need to find out what your customers are searching online using voice search
You can find common questions or phrases by conducting survey or you can use the tools that we have suggested above in section 2
Creating blog posts and answering to common questions of your customers will not only help to increase chances of appearing your business higher in voice search but it will also help you to increase number of leads/sales
This is why it is important to have a blog on your website.
Conclusion
You might be aware that SEO techniques which were working well in 2016 are no longer working in 2018
The reason is quite simple. Google wants to make its search result more accurate to provide users with the best info and that's why we are seeing frequent algorithm updates
We can at least say voice search is here to stay for many years to come. You need to incorporate voice search in your SEO strategy if you're still using obsolete SEO techniques
Speak to your potential customers & use relevant tools to collect their voice search queries and start creating useful content based on it
If you have any other questions on voice search, Please feel free to write in the comments section below