In recent times, the advent of online reputation management has really picked up speed. And one of the biggest pillars of ORM is? You guessed it right! Customer reviews.
Well, online reputation management is the art of monitoring what people are talking about you online. It means reading, being a part of, and analyzing the multiple conversations happening in your name.
Why is it important? Because a customer is a king, and you as a brand want to know how you're doing in the eyes of your target audience. This type of social validation is what everyone is looking for and customer reviews sit at the forefront of it.
Google and its Little Stars
It wasn't always sunshine and rainbows in this domain though. Notice how those little stars have started to appear in Google's search results; something which is a recent occurrence. As soon as that happened, both businesses and customers started taking notice. This is because the best-reviewed restaurants and places took up most of the space at the top displacing all other listings.
Can customers leave online reviews for my business? Are there reviews only about my brand or my products, services, and staff as well? What is the % of bad reviews the brand is getting on average? What is the company's overall rating in terms of stars?
The fact of the matter is that all these reviews and ratings are alive and well for everyone to see; hence, occupy prime importance.
1. Biggest Validation Stamp Out There
And if we haven't stated before, here's another reinforcement. There can be no other alternative source of validation that just hits the right chord as customer reviews do.
Asking your internal team just doesn't cut it; because there won't be a whole lot of honesty there; get my point? Whereas reviews are plain, simple, concise, and brutally honest.
A good online review can set everything straight and give you a confirmation that you're on the right track and that your marketing strategies are well and truly working. You can't just read what the magazines, newspapers, or other websites are stating about you. Whatever the customers think always occupies top billing i.e. the top spot.
"Let's take most of the money we would've spent on paid advertising and paid marketing and instead of spending it on that invest it in the customer experience/customer service and then let our customers do the marketing for us through word of mouth."
– Tony Hsieh, CEO of Zappos
2. Helps Turn Potential Shoppers into Regular Customers
Image Source:- Bright Local
Customer reviews can act as a deal maker or deal breaker truth be told. Even the decision of opting for a top-notch Magento SEO company demands solid research before taking the plunge. Why wouldn't sane customers do the same?
Potential shoppers are individuals who've shown an interest in a brand; the products and services on offer. And how will this be apparent? It will be when a potential shopper types a targeted keyword in a search engine, opening a list of brands and companies. Now, more often than not, customers will pick from the top 5 results.
And even above that are brands that have received the top most ratings and reviews. Hence, it pays good dividends to have customers rating you.
You'd be surprised to hear that online reviews have become a part and parcel of a customer's decision-making process. No less than 56 percent of consumers select a business if it has positive ratings/reviews in Google's search results.
3. Improves Landing Page Conversions Substantially
What do WordPress experts for hire stress the most? Landing pages. A landing page is not just any other web page; it is the biggest marketing channel present on the website; the first thing every visitor looks at and more. And as we all know, first impressions are made only once. Especially for all e-commerce websites, a landing page is one of the key aspects in terms of sales.
Ask any digital marketing manager out there and he/she will tell you that improving the conversion rate is the biggest boulder there exists. This is where customer reviews turn the tide in a brand's favor.
4. Peer Recommendation Over Everything Else:
Even though the business world is moving at the speed of light metaphorically; there are some marketing channels that will never go out of fashion. And one such marketing channel is 'word of mouth'.
When was the last time you asked somebody close for a particular restaurant recommendation ahead of your birthday party? Even with online businesses, the same trend has been picked up by most customers out there. And what could be better than reading a bundle of reviews coming from strangers who are nothing but honest?
Even a potent WooCommerce development pairing fails if the online reviews are all negative.
5. Positive Reviews Build Immense Trust and Credibility
What are online reviews essentially? Positive reviews simply act as badges of trust and quality in the eyes of consumers. We've already stressed the validation aspect above; hence, this is kind of self-explanatory.
One can't undermine the importance of product reviews in online shopping. The biggest thing about trust is; that once it's lost, it is almost impossible to garner it back. And most businesses run on trust and nothing else. Why would you rather spend extra on a pair of Nike shoes than buy from some other brand which might be better looking? Trust is what!
As many as 9 out of 10 customers tend to figure out whether or not they wish to trust and buy from a brand after looking through as many reviews. Hence, getting these reviews must be a consistent ongoing process. Such positive changes don't just occur overnight; on a monthly basis, keep on shelling out strategies to get more and more reviews organically.
6. Difference Maker Through and Through
Rising competition has made this online business field much more complicated. Brand building is no longer a couple-months job anymore. It is that difference maker which is next to none.
Hence, the act of getting reviews should be embedded in your follow-up and direct sales regimes because consumers trust online reviews. Make sure that you ask for one at their happiest hour; get the gist? Such an example would be a family who has just bought their first car; you can simply ask them to post a photo on social media and tag their fellow members. Or if you're a home service delivery brand, you can ask the customer to leave a review after they've received a soothing massage.
You can also send your customers goodies or other complimentary figurines along with the order just to get into their good books and develop a sense of trust.
7. Helps Provide Substantial SEO Juice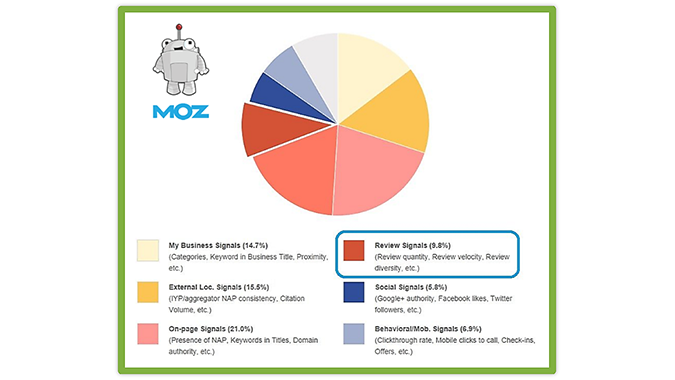 Image Source:- MOZ
The fact that reviews play a substantial role in getting your brand listed at the top of the search engine rankings is proof enough that you need to go for them every passing month.
For any brand dealing with business online, SEO is the top priority; it is a potent tool that drives customers to the website in an organic fashion. And I'm pretty sure every professional Shopify SEO company will agree with this. Also, it puts a brand on the map as it garners visibility in abundance.
It helps to get visitors and since the visitors will reach the website organically, the average session rate will improve as well. Also, it helps to optimize click-through rates. A recent study which was conducted showed that no less than 56% of customers click on brands with online reviews. How's that for a number?
8. Customer Feedback Can Help Improve Your Business By Manifolds
"Your most unhappy customers are your greatest source of learning."
– Bill Gates
This is one value that no other marketing channel provides. Where else will you find consumers being this honest about how your products and services are. Now, this is up to the company managers to take this positively in the sense that there is room for improvement. This way they can directly identify chinks and arrears and work towards making them better.
This will not only optimize the overall productivity of the company but also ensure high standards for the internal team to follow. Don't just discard negative reviews without a proper in-depth look. Is there a particular employee or delivery staff who is getting highlighted? Is there a particular range of products that have been listed as overpriced on the website? Is the customer getting everything he/she was promised with the deal? Are the deliveries happening on time? Such questions will help you to transform negative feedback into something constructive, for the betterment of the company as a whole.
9. Because It is What Customers Look For
As per a survey conducted by BrightLocal; as much as 91% of customers actively indulge in reading online reviews. Now, this is a staggering number which proves to be good news for businesses that are doing well. Where does this leave nascent businesses or startups? Agreed, the road will be much tougher; however, this is an added motivation for such small brands to follow the right practices and focus on customer satisfaction and quality.
Ultimately, a win-win situation for everyone. A brand will be listed up top if and only if the products and services on offer are being received well. And on the consumer's end, they're being displayed only the top most rated brands.
And after all, that has been said and done, you ought to have reviews because that is what a customer looks for.
These are just some of the major reasons why online reviews can prove to be substantial for an e-commerce brand or an online business dealing with products and services. And sometimes, all you need to do is ask. As per a recent survey, 7 out of 10 regular customers will definitely leave a review if they're asked properly. That's all it takes!
You just need to figure out ways where you don't portray yourselves as sell-ish keeping in mind the psyche of an average customer.
Makes sense? Let's start working. Start approaching your customers to leave positive reviews and see how it helps to grow your business in this world of the socially connected world.